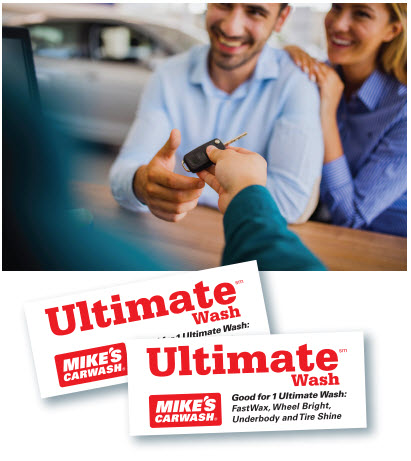 GIVE EVERY NEW CAR BUYER A SPECIAL BONUS
Mike's Carwash Dealership Program is the perfect way for YOU to "add value" to each customer experience without taking a hit to your bottom line. For each new car purchase, Mike's will give each customer:
2 Ultimate Washes ($44 Value) mailed to every new car buyer at no cost!
It's a turnkey program for our team to administer:
1. Mail pre-addressed, stamped, unsealed envelopes and the dealership thank you letter for your new car buyer to Mike's Carwash.
2. Mike's Carwash Customer Support Team will insert your dealership brochure (which includes the 2 FREE Ultimate Washes) along with the thank you letter in the customer envelope.
3. Mike's will mail your customer letters and brochure within one business day.
IMPORTANT: Mike's does NOT retain your customer's information for any reason.
Sign up today by calling
844-280-WASH (9274)
.